​3 things you need to know about gender inequality in coffee
2.4 billion women globally don't have the same rights as men. That's 30% of the world's population. Women in coffee growing countries are disproportionately impacted by gender inequality.
As we celebrate the launch of our spring espresso, Betty, an incredible coffee produced by a group of female growers in Guatemala, we're taking a closer look at gender equity in the coffee supply chain.

We've spent some time looking at the World Economic Forum 2021 Global Gender Gap report, comparing it with the world's top 20 arabica coffee producing countries to better understand the lives and experiences of the women responsible for producing the coffee we drink.
This blog's a bit of a long one, it's a big issue after all and one we want to talk about in detail. So brew up a coffee and get stuck in.
---
3 things you need to know about gender inequality in coffee
1. Women in coffee growing countries will have to wait longer for gender equality
This is how long the World Economic Forum estimates women will have to wait for gender equality, broken down by region.
Latin America & Sub Saharan Africa produce 92.6% of the world's arabica coffee, so this comparison is super relevant to the speciality coffee industry.
Western Europe 52.1 years
Latin America 68.9 years
Sub Saharan Africa 121.7 years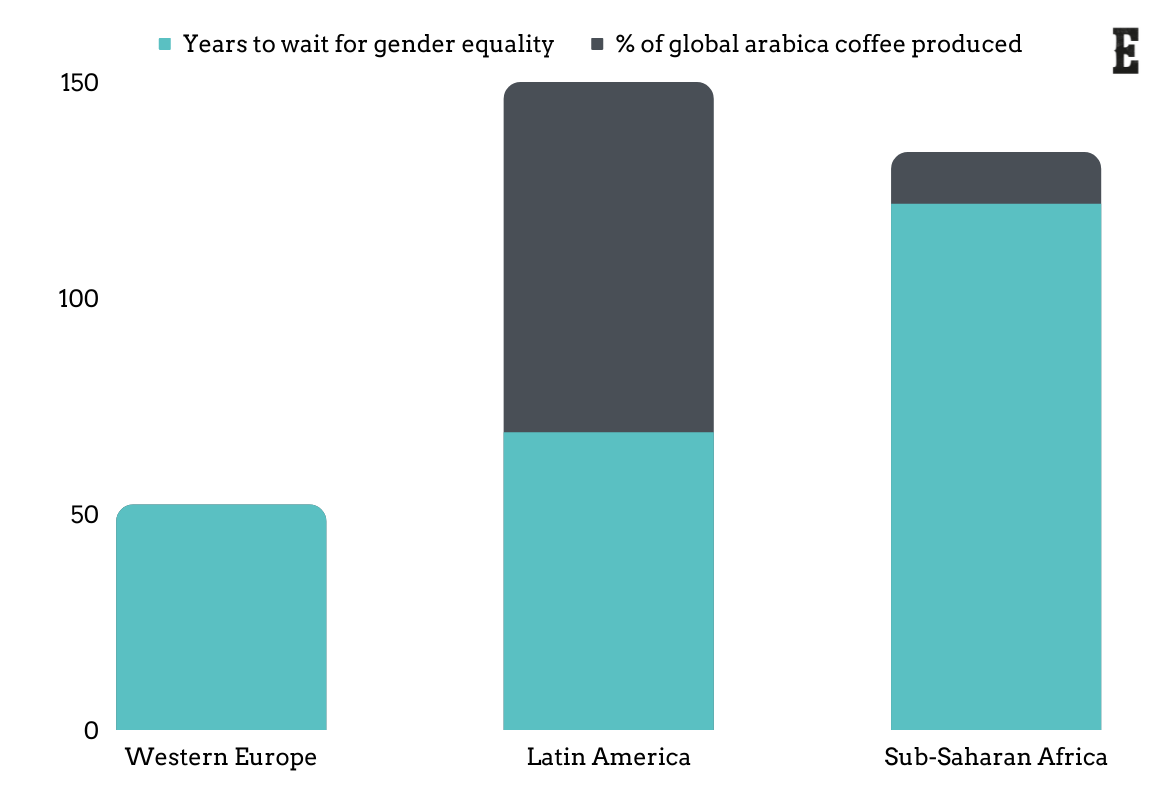 So, women in Latin America will be waiting for 17 years longer than their European sisters for gender equality. In coffee terms that's nearly 81% of the world's arabica coffee, countries like Brazil, Honduras, Colombia, Guatemala.
Women in Sub-Saharan Africa, who produce 12% of the world's Arabica coffee and include countries like Ethiopia, Kenya and Democratic Republic of Congo, have to wait an extra 70 years compared with women in Western Europe.
That's an entire lifetime.
---
2. A glass ceiling keeps women at the very bottom of the labour chain
Women carry out significant proportions of manual work in coffee production. That includes planting, picking and sorting. On the face of it, this seems like a positive thing, the industry gives women opportunities for economic participation.
In Guatemala, women make up 70% of the coffee production workforce. In Uganda this is 65%. Often this is skilled work, pickers need to choose the ripest cherries, and pick carefully so as not to damage the plant. Once picked, the coffee needs to be carefully sorted.
Higher quality coffee will fetch a significantly higher price so a skilled eye and meticulous attention to detail at this stage makes a big difference to the final price the coffee will sell for. Farm Africa says that 72% of profit is added by women through the post-harvest handling.
However, higher earning potential sits in the grading & dry processing, marketing and selling of coffee. This part of the supply chain is dominated by men. In Guatemala, just 20% of farm owners and operators are female (which is where the biggest potential for profit lies).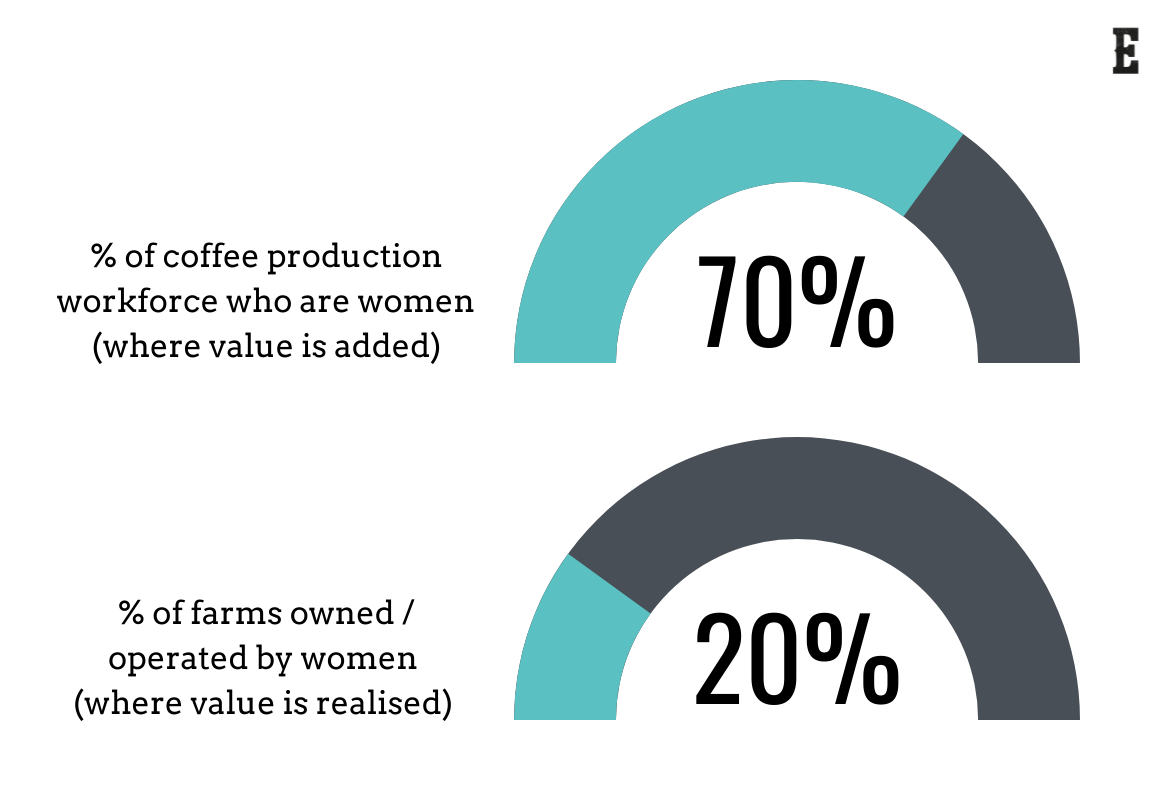 ---
3. Women in coffee growing countries are at higher risk of gender based violence.
Women in coffee growing countries don't just have to wait longer than European women for economic equality. Their safety is also at significant risk.
Honduras has the highest femicide rate in Latin America at 4.7 women per 100,000. It is the world's fourth largest producer of Arabica coffee.
Guatemala, which is the country of origin for this year's Betty coffee, has the third highest femicide rate in Latin America and is the world's sixth largest producer of Arabica coffee. It's ranked 122nd out of 156 countries for gender equality and is the most unequal country in Latin America.
Women in Sub-Saharan Africa also face frighteningly high levels of violence. The Democratic Republic of Congo is the most unequal country in Sub Saharan Africa. Female farm-workers are sexually-assaulted by militant groups as part of a strategy to destabilise the region. 80% of women in Kenya have experienced, or know someone who has experienced sexual violence since Covid-19.
This is a harsh reality for women in coffee growing countries around the world. But something that rarely gets spoken about in coffee consuming countries here in the UK.
---
How can we support women in coffee growing communities?
International Women's Day is a great conversation starter and shines a light on some of the issues discussed here. But in truth, female growers need our support year round, not just for one coffee a year.
Supporting women in coffee growing communities comes down to scrutinising your supply chain. As customers that means asking big questions of us, your roaster.
For the team at Extract Coffee Roasters, it means two things;
1. Building year-round, sustainable relationships with female coffee growers.
2. Choosing to work with coffee importers who are funding female empowerment programmes in coffee growing countries. For example Volcafe and DR Wakefield.
Here are a few examples of what that looks like in practice:
---
Liquidambar, Honduras
Meet Delmy, one of the co-owners of the Liquidambar coffee farm. Extract Coffee Roasters was the first roaster in the UK to buy Delmy's coffee back in 2015. Seven years on and we're still working together now, using her coffee in our Organic Espresso.
Delmy is part of the The Honduras Chapter of the International Women's Coffee Alliance (IWCA) and is dedicated to strengthening the role of women in coffee production, processing and trading. These workshops have included barista courses, cupping, marketing, MS excel, farm certifications, project proposal methods, governance and financial literacy - bringing more women in to the more profitable side of the coffee supply chain.
Honduras has hit the headlines in recent years over its high levels of femicide and gender based violence. It still has the highest levels of femicide in Latin America. Gradually change is happening. At ground level, women are gaining financial independence and autonomy. When Delmy visited us in London, she spoke about the importance of teaching women skills which mean they can be financially independent. Change is happening at the top too, another step forwards in Honduras is the election of their first ever female president, Xiomara Castro at the start of this year.
---
Virunga National Park, Democratic Republic of Congo
Since 2020 Extract Coffee Roasters has supported Congolese women of the Coopade Cooperative in Virunga National Park, Democratic Republic of Congo, using Kirindera Women's Peace Coffee and Kawa Amaha Women's Coffee in the last two editions of our winter espresso, Inner Strength.
The initiatives we've supported for our Inner Strength coffee over the past two years empower women to have full control over the production, marketing and sale of their coffee. As mentioned in this blog post, the Democratic Republic of Congo is currently rated as the most gender unequal country in Sub-Saharan Africa.
Women in the DRC face terrifying levels of violence from militia groups however are using the coffee they produce to create more opportunities for young people in their area, in the hope that they will be able to rebuild their communities and prevent young people being recruited by militant groups.
---
La Morena, Guatemala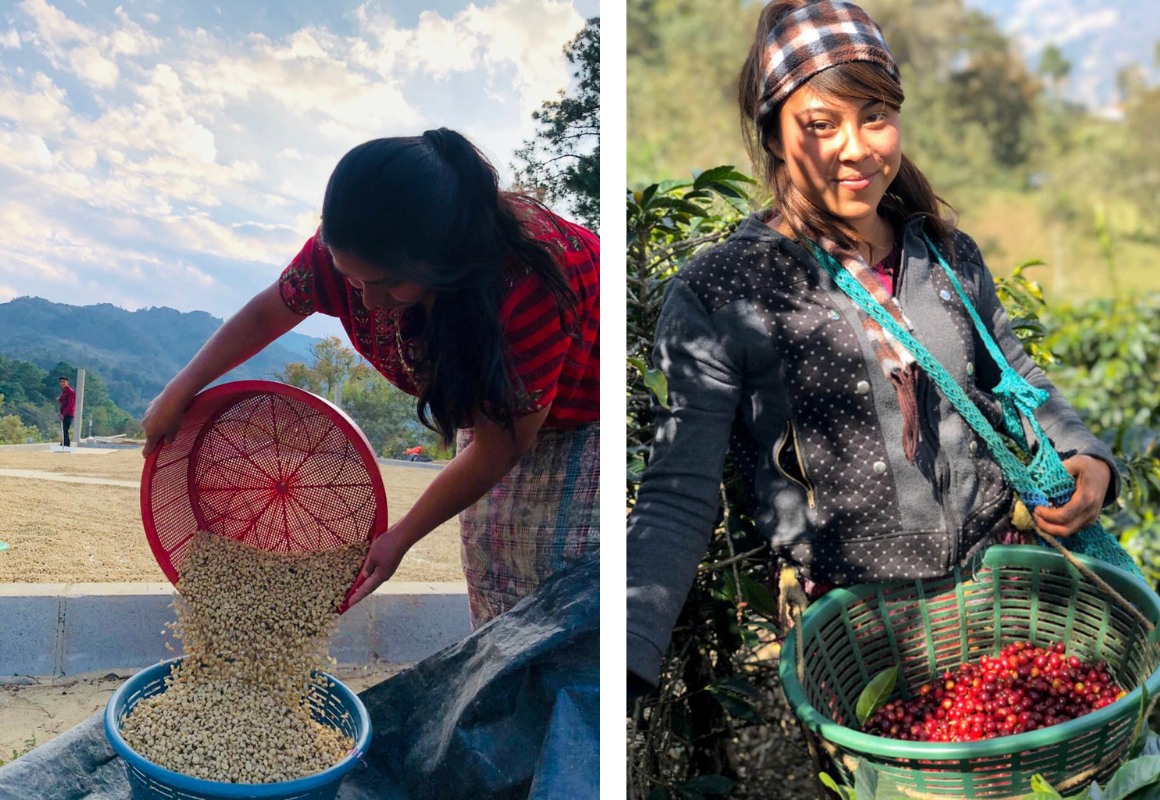 As we've already seen, whilst women make up 70% of the workforce in Guatemalan coffee production, just 20% of coffee farms are owned or operated by women. Over the past five years there have been a number of grass roots initiatives aimed at empowering Guatemalan women, including one the one we've used for our International Women's Day coffee, Betty.
The coffee we've used in this year's Betty coffee is from a Volcafe Select project called La Morena. A nationwide competition saw three female farmers selected to set the flavour profile for a new coffee. The task of growing this coffee was then shared between 22 female growers, resulting in this incredible all-female coffee.
---
Thanks for taking the time to read to the end, your understanding and support goes some way to supporting these fantastic projects.
If all that reading's made you thirsty, we recommend checking out Betty Espresso (here for a limited time only!) or our Organic Espresso.
---
Want to keep researching?
There's so much more to learn about gender equity and supporting coffee growers. Here are the sources and articles which we've used to help research this blog.
Alliance of Women in Coffee (AMUCAFE): https://mujeresencafehn.org/?fbclid=IwAR1FkqaOoWfX7hVIqrgW5WmY2y4C6KBuGWzhuAfwHsOPVNSzmnJAjDbUIIY
Borgen Magazine: https://www.borgenmagazine.com/womens-rights-in-honduras/
City of Joy, Congo: https://cityofjoycongo.org/city-joy-film/
Daily Coffee News: https://dailycoffeenews.com/2020/07/22/farmers-in-eastern-dr-congo-overcome-extreme-challenges-to-produce-great-coffee/
Economic Commission for Latin America & Caribbean: https://www.cepal.org/en/pressreleases/eclac-least-4091-women-were-victims-femicide-2020-latin-america-and-caribbean-despite ; https://www.cepal.org/sites/default/files/infographic/files/21-00792_folleto_the_pandemic_in_the_shadows_web.pdf
Elpais: https://english.elpais.com/usa/2021-05-05/tengomiedo-a-rallying-cry-to-end-violence-against-women-in-guatemala.html
Farm Africa: https://www.farmafrica.org/downloads/resources/virunga-park-coffees.pdf ; https://www.farmafrica.org/latest/news/post/967-women-in-coffee-working-towards-gender-equality-in-kanungu
Genuine Origin: https://www.genuineorigin.com/Guatemala-La-Morena-Green-Coffee-Beans-2021?quantity=1&custcol3=1 ;https://www.genuineorigin.com/site/images/factsheets/la_morena_cards.pdf ; https://genuine-origin.medium.com/origin-report-guatemala-2020-5408d0be42bf
Girl Effect, The, Youtube: https://www.youtube.com/watch?v=1e8xgF0JtVg
Guardian, The: https://www.theguardian.com/global-development/2022/jan/26/honduras-first-female-president-xiomara-castro-women
Index Mundi: https://www.indexmundi.com/agriculture/?commodity=green-coffee&graph=arabica-production
International Women in Coffee Association (IWCA): https://www.womenincoffee.org/central-america-caribbean ; https://www.womenincoffee.org/blog/2020/4/28/iwca-insights-report-covid-19-and-coffee-communities
Rainforest Alliance, The: https://www.rainforest-alliance.org/in-the-field/project-guatemala-women-make-strides-in-sustainable-coffee-cultivation/
UK Parliament, House of Lords Library: https://lordslibrary.parliament.uk/international-womens-day-2022-gender-gaps-across-the-world/
United Nations: https://data.unwomen.org/publications/vaw-rga ; https://www.un.org/en/observances/ending-violence-against-women-day
US Department of Agriculture: https://apps.fas.usda.gov/psdonline/circulars/coffee.pdf
Volcafe Select: https://www.volcafeselect.com/social-projects/la-morena-guatemala ; https://www.volcafeselect.com/social-projects/virunga-national-park-coffees-dr-congo
World Bank: https://www.worldbank.org/en/news/press-release/2022/03/01/nearly-2-4-billion-women-globally-don-t-have-same-economic-rights-as-men