Summer recipes for iced coffee and cold brew
In the midst of a heatwave, coffee lovers everywhere find themselves diving headfirst into a cold brew. But what is cold brew? Is it different to iced coffee? And how do you make it actually taste good?
In this iced coffee blog post we aim to answer all your iced coffee and cold brew coffee questions and share our 5 favourite recipes from the Extract Coffee Roasters team.
These recipes are designed to made at home. If you run a cafe, bar or restaurant and are looking for summer drinks recipes, check out our Summer Drinks Power Up.
---
WHAT IS COLD BREW? AND WHAT'S THE DIFFERENCE BETWEEN ICED COFFEE & COLD BREW?
We take iced coffee to mean any coffee which is served cold, over ice. It could be brewed hot as an espresso or filter, or brewed cold as a cold-brew. But, if it's served cold over ice, it's an iced coffee.
A cold brew is a way of brewing iced coffee. In that the coffee is brewed in cold water, rather than hot water. This means that something like an iced latte or an iced mocha is not technically a cold brew.
Coffee extracts at a much slower rate in colder temperatures. As a result it can be hard to get some of the more complex flavours of the coffee to come through in your drink when brewing in cold water. As a result, baristas have started experimenting with hot-brew methods which are chilled to get more flavour and complexity out of the coffee.
Some of the recipes in this blog post are "true" cold brew coffee recipes, brewed in cold water. Others are iced coffees which are brewed hot and served over ice or chilled before serving.
---
WHAT'S THE BEST COFFEE FOR ICED COFFEE OR COLD BREW?
The key to a truly wonderfully cold brew is in your choice of coffee.
As mentioned it can be hard to really detect some of the more subtle flavour notes in coffee when its cold. For that reason we choose coffees with strong fruit notes and coffees with a boozy sweetness works a treat.
Try a honey process coffee or a natural process coffee as these tend of to have intense sweetness and big fruit flavours. The origin of your coffee can make a difference too. East African coffees such as our summer espresso, Funka, from Uganda are particularly good for iced coffees. Kenyan and Ethiopian coffees are also renowned for big juicy flavours and make a delicious cold brew.
If you're planning to add milk or alternative milks to your cold brew, we'd recommend using an espresso with strong fruit notes such as Funka or Grass Roots Espresso, a natural process coffee with notes of pineapple from Papua New Guinea.
Spend a bit of time looking at the flavour notes of each coffee and go for big stand out flavours to get a truly delicious cold brew.
---
HOW LONG DOES ICED COFFEE AND COLD BREW COFFEE TAKE TO MAKE?
The length of time it takes to make a cold brew coffee really depends on the method that you choose to follow.
The recipes below can be ready in as little as 10 minutes for an iced latte, under 20 minutes for a flash brew, or you could go all out for a 24 hour cold brew.
We've decided to share recipes which give you a choice depending on the amount of time, patience and faff you're looking to invest in your iced coffee this summer.
---
HOW DO I MAKE ICED COFFEE AND COLD BREW COFFEE?
We asked the Extract Coffee Roasters team how they like to make iced coffee and cold brew coffee at home. Here are five recipes that they shared with us.
The first three recipes are for iced coffee. Brewed using hot water and then chilled. The final two recipes are for cold brew coffee where coffee is steeped for a long time in cold water.
We love to see your iced coffee and cold brew coffee creations to be sure to tag us @extractcoffee in any of pictures you post online.
---
ICED LATTE
A classic iced latte is easy to make and is the quickest recipe in this blog post. If you're looking for a recipe which works well with milk or alternative milks, this is the one for you.
Choose a medium roast or espresso roast coffee with plenty of sweetness and strong fruit notes in the flavour profile. We'd recommend trying something like our summer espresso, Funka.
YOU NEED
200ml fresh cold milk or an alternative milk of your choice.
1 double shot of coffee (36ml).
Ice.
A glass.
Something to make an espresso style drink. An espresso machine is best but if you don't have one you can use an aeropress or a mokka pot.
TIMINGS
Prep - 5 minutes
Shot of espresso - 30 seconds
Serve - 2 minutes
3 STEPS TO BREW
Make a double shot of espresso, we recommend a brew ratio of 18g of coffee in for 36ml coffee and a shot of time of 25 to 30 seconds in an espresso machine. There's more advice on finding the perfect brew ratio for your coffee in our Golden Rules Brew Guide.
If you don't have an espresso machine at home you can use a mocha pot or an aeropress using the classic method (Read our free Aeropress brew guide here).
Fill your glass with ice, then add your milk.
Finally, top with espresso. It might take a few tries to achieve that instagram-worthy marbling of the coffee and milk (but however it looks, it should taste great!)
---
FLASH BREW
Originating from Japan, flash brew coffee is pretty much the exact opposite of cold brewing, but the end result is the same.
It's quick, done with hot water, and the final product tends to retain the coffee's aromatics and sweetness. Using the pour-over method, water is poured over coffee grounds and immediately drained into a container of ice, instantly chilling the coffee. To compensate for ice melt, coffee is brewed with less water.
We'd recommend a medium to light roast coffee for this recipe. Try a really fruity filter coffee like Koke Natural filter coffee from Ethiopia with delicious notes of blood orange.
YOU NEED
24g coffee.
250g filtered water.
150g ice.
TIMINGS
Prep – 5 mins
Brew – 10 minutes
Serve – 2 minutes
6 STEPS TO BREW
Weigh 24g of coffee per 250ml off-boil water and 150g ice.
Grind your coffee. Choose a medium grind size as you may use for any pour over method
Pop the ice in your carafe, Chemex or whatever else your coffee will be brewing into. Check out our Chemex Brew Guide and our V60 Brew Guide for more tips on these methods.
Rinse the filter before you start brewing and discard the water. This removes any papery taste. Then add your coffee. With the ground coffee in your filter, first pour over 100ml of water (we call this blooming the coffee). When the water has drained through, pour over the remaining water.
With the ground coffee in your filter, first pour over 100ml of water (we call this blooming the coffee). When the water has drained through, pour over the remaining water.
Aim to have just a little ice left over in the vessel at the end from the hot coffee. And voila! Time to enjoy. Serve over ice.
---
CHILL-TER (ICED FILTER COFFEE)
This is another great fast and easy method for iced coffees. We love a chill-ter in the roastery. Essentially a chilled filter coffee.
We recommend experimenting with this method, play around with grinding your coffee a little finer or increasing the amount of coffee you use to pull up that brew strength too.
Because the coffee is brewed hot you get loads of flavour with this method so just like a flash brew coffee, you can opt for a slightly lighter roast coffee. We like Gititu filter coffee from Kenya with sweet notes of elderflower and crisp apple acidity.
YOU NEED
Coffee
Filtered water
Ice
TIMINGS
Prep – 5 mins
Brew – 8-12hours (overnight)
Serve – 2 minutes
5 STEPS TO BREW
Weigh 32g of coffee per 500g of hot, filtered water.
Grind your coffee. You need a medium grind size as you would use for a filter brew method such as V60, Chemex or a Filter machine. Put this coffee in your filter.
Rinse your filter then add your coffee. Pour about 100ml of hot, filtered water over the coffee in a circular motion. You should see the coffee rise up and bubbles as the gasses in the coffee expand. This initial pour is known as the bloom. Allow the liquid from the bloom to drip through and then throw it away.
For this method, getting rid of the bloom brew (which tends to lack flavour) means that the only coffee in your chilter will be packed full of flavour – a must when drinking it ice cold.
Once you've thrown away your initial bloom brew, continue to pour the remaining 400g of hot water over your filter with the wet coffee grounds in there. Try to pour at a steady, continuous rate keeping the water level topped up in your filter. Do this until all of the remaining 400g is gone. This should take a couple of minutes. There's more info in our V60 brew guide here.
Finally chill that fella overnight then serve over ice with a fruity garnish. (We're suckers for grapefruit ice cubes).
---
So now we get to the true cold brew methods. That's coffee which is brewed in cold water rather than hot water then chilled. The colder temperatures means that the coffee takes a lot longer to extract. So, whilst these methods are easy enough to follow and pretty faff-free, they need a bit of pre-planning.
With these sorts of cold brew methods, experimenting is absolutely encouraged. Try different coffees, different steep times and different grind sizes. Embrace your inner coffee geek. Make a spreadsheet.
We like to choose a really fruity espresso for cold brew coffees. Something like Grass Roots Espresso, a natural process coffee from Papua New Guinea with notes of pineapple. Cold brew coffees can also be stronger in terms of caffeine content, so you might also want to consider Half Speed, our low caffeine espresso. With notes of nectarine this is also delicious!
PRO TIPS.
As it's summer and your cold brew coffee will be steeped at room temperature, we recommend a lidded container to keep things nice and clean.
Filtered water will make a huge difference to the taste (and extraction) of your coffee so try to filter if you can.
Finally, a garnish makes all the difference. A wedge of orange, lemon or grapefruit will give your cold brew coffee a delicious final flourish.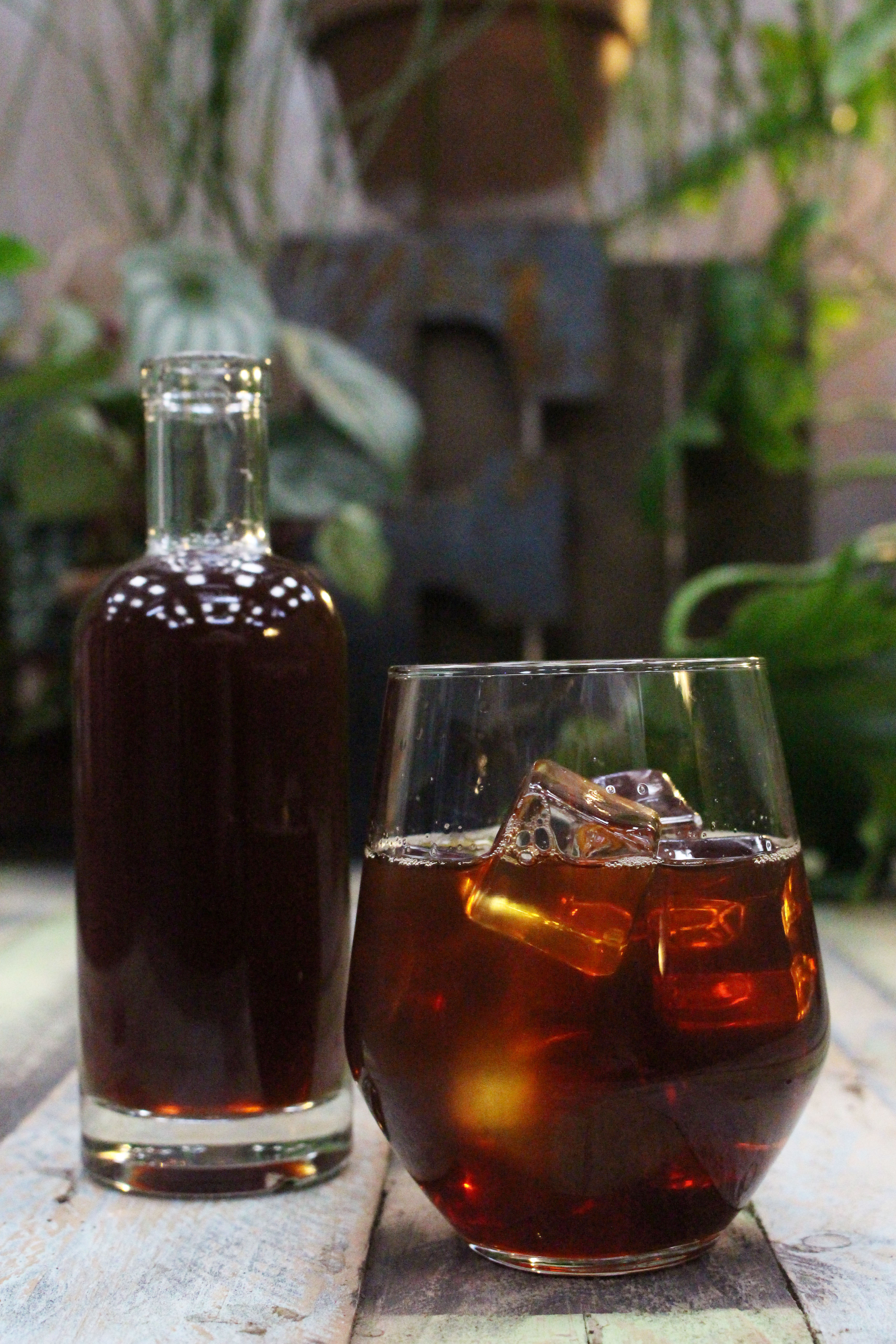 12-24 HOUR COLD BREW COFFEE (USING A CAFETIERE)
YOU NEED
Coffee
Cafetiere (a.k.a French Press or Plunger)
Filtered water
Ice
Seive
Coffee Filter Papers
Lidded container
TIMINGS
Prep – 5 mins
Brew – 12-24 hours (longer = stronger)
Serve – 10 mins including straining time
5 STEPS TO BREW
Weigh 90g of coffee per 711ml (3 cups) of cold, filtered water and grind coarsely for cafetiere.
Put your coffee and water in a large lidded container and let it steep at room temperature for 12-24 hours
After steeping, double strain through a sieve or a cafetiere and then through a filter paper (such as v60 or chemex) for that clean finish.
Pour over ice, garnish with citrus, if you like, and enjoy!
---
15 TO 20 HOUR COLD BREW COFFEE (USING A POUR-OVER METHOD)
YOU NEED
Coffee
V60 (or any other pour over vessel i.e. Chemex)
Filter papers
Filtered water
Ice
Lidded container
Rubber band (a clean one!)
TIMINGS
Prep – 5 mins
Brew – 15-20 hours
Serve – 2 mins including straining time
5 STEPS TO BREW
Weigh 80-90g of coffee per litre of cold, filtered water and grind coffee for a V60 or pour-over method.
Put the coffee inside a filter paper and secure with a rubber band.
Add the water and the coffee parcel into your lidded container and infuse for 15-20 hours at room temperature.
Pour over ice or add 250g ice per litre to your batch of cold brew.
---
ALL THAT READING LEFT YOU THIRSTY?
For the dedicated iced coffee fans who made it to the end. May your brews be ever beautiful and delicious. Check out our selection of espresso and filter coffees online to find a tasty coffee for your next iced coffee.